An Evening with the Higginses: "Since You Asked" Book Signing and LFS Awareness Talk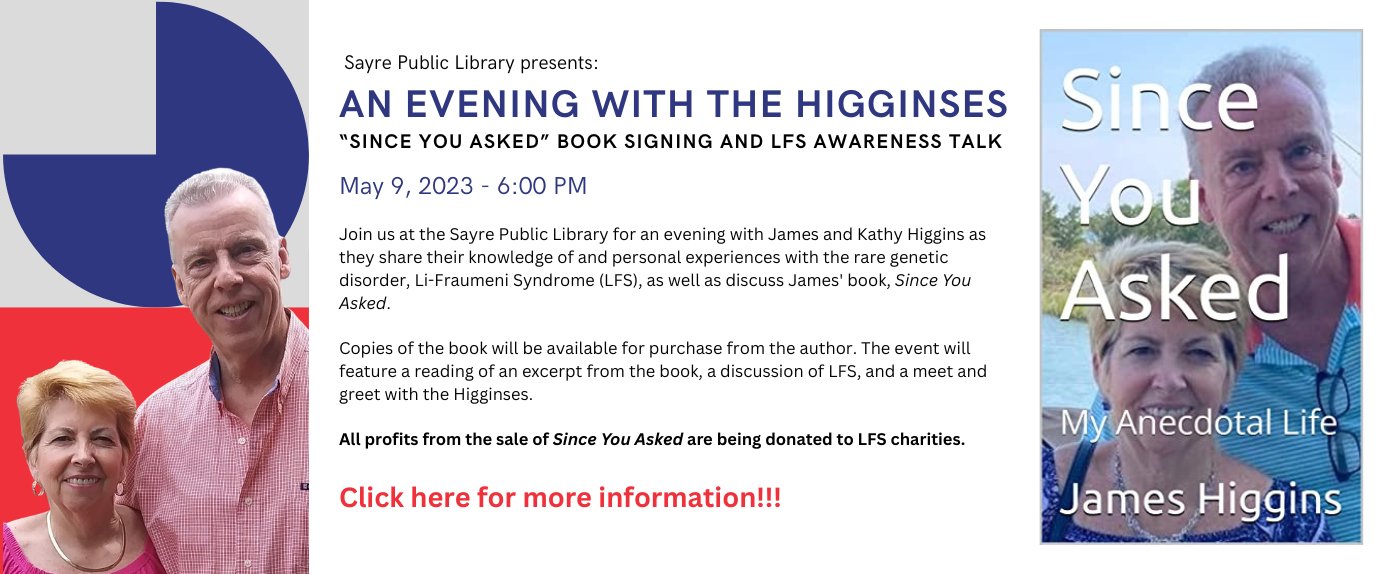 Join us at the Sayre Public Library at 6:00pm on May 9, 2023 for an evening with James and Kathy Higgins as they share their knowledge of and personal experiences with the rare genetic disorder, Li-Fraumeni Syndrome (LFS), as well as discuss James' book, Since You Asked, of which all profits are donated to several LFS charities. Copies of the book will be available for purchase from the author. The event will feature a reading of an excerpt from the book, a discussion of LFS, and a meet and greet with the Higginses.
About the Book
Since You Asked is a collection of autobiographical stories and essays – some hilarious, some heartbreaking and poignant – chronicling the life of an everyman from the gritty streets of New York City to the rural hills of Pennsylvania. A celebration of life. Mr. Higgins has Li-Fraumeni Syndrome (LFS), a genetic disorder that predisposes people to cancer. He has lost two of his daughters, as well as a sister and his father to the disease, and is himself a survivor of several major cancers. All profits from the sale of Since You Asked are being donated to LFS charities.
About the Author
Born in Manhattan and raised in the projects of the South Bronx, first-time author James Higgins spent his early adulthood traveling the country, chasing down dreams and trying to find himself. Some of those dreams, once caught, seemed hardly worth the chase, but the life experiences and stories gathered along the way made the effort well worth the trouble. Today he and Kathy, his wife of forty-plus years, live in rural North Central Pennsylvania, with five children and thirteen grandchildren. They run a successful real estate appraisal business.
Related Events