Holiday Decor Sale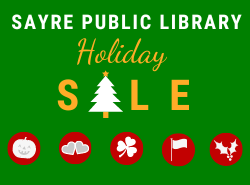 Sayre Public Library Holiday Décor Sale will be held Friday July 29 to Saturday August 6 during library open hours. An assortment of new, used, and vintage holiday decorations, from Christmas to Valentine's, Halloween to the 4th of July, will be available. Come and browse the selection of tabletop items, wreaths, flags, ornaments, wall hangings, gift bags and wraps, dishes, lights and outdoor items!
We will be accepting donations for this sale until July 22, 2022.
Check out some of what's up for grabs below!
Related Events